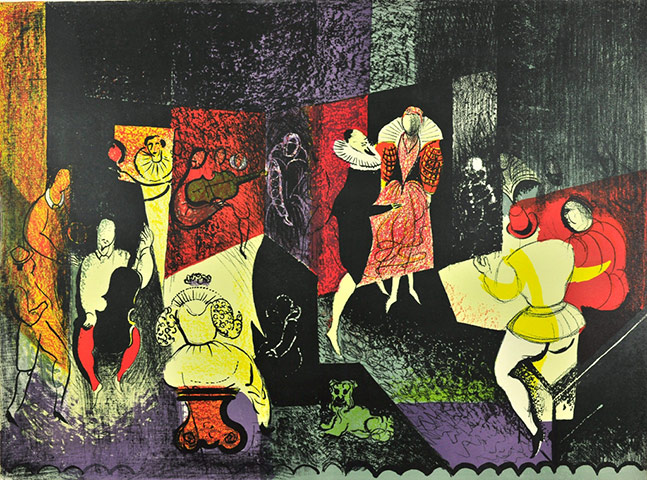 To the Towner Gallery, Eastbourne, to view the Lyons Lithographs, three series of prints commissioned by the Lyons company, who owned the chain of Corner House tea-shops which were ubiquitous in England from before the First World War to the 1970s. After the Second World War, with many shops in need of refurbishment, and resources very scarce, the company decided to commission some lithographs from prominent artists that could be displayed in many of the shops, thus ensuring original works of contemporary art were on display but without expending huge amounts of money. Three series in all were commissioned, and some strikingly evocative images were produced.
Among the artists whose work was on display were Edward Bawden, John Nash, L.S. Lowry, David Gentleman and Barnett Freedman. Some of the work is undoubtedly aimed at cheering up the Lyons punters in an age of austerity, and as such occasionally veers towards the sentimental. But Lowry's familiar townscape, Sam Rabin's boxers slugging it out, and George Hooper's oddly Germanic hotel scene are certainly not that.
The exhibition arranges the prints in three sections, representing the three phases of the commission, and provides some useful background detail on the technique of lithography. There's a good selection of the images here.
After the exhibition, it's a must to visit the café, where the waitresses have donned "nippy" uniforms, and serve against a giant photo of a vintage Corner House. Can't imagine Starbucks ever doing something like this.
(Image: John Piper, Elizabethan Dance)
The Lyons Lithographs by Dr Rob Spence is licensed under a Creative Commons Attribution-ShareAlike 4.0 International License.